Etter Art Shop: Jacquard Pinata Alkoholtinte in 27 Farben und 2 Größen
Mit Alkoholtinten kreierst du abstrakte Effekte in deiner Kunst. Die Farben sind halbtransparent und eignen sich für glatte Oberflächen, das Einfärben von Resin oder das Auftropfen auf Resin. Fläschchen mit 15 oder 118 ml Inhalt.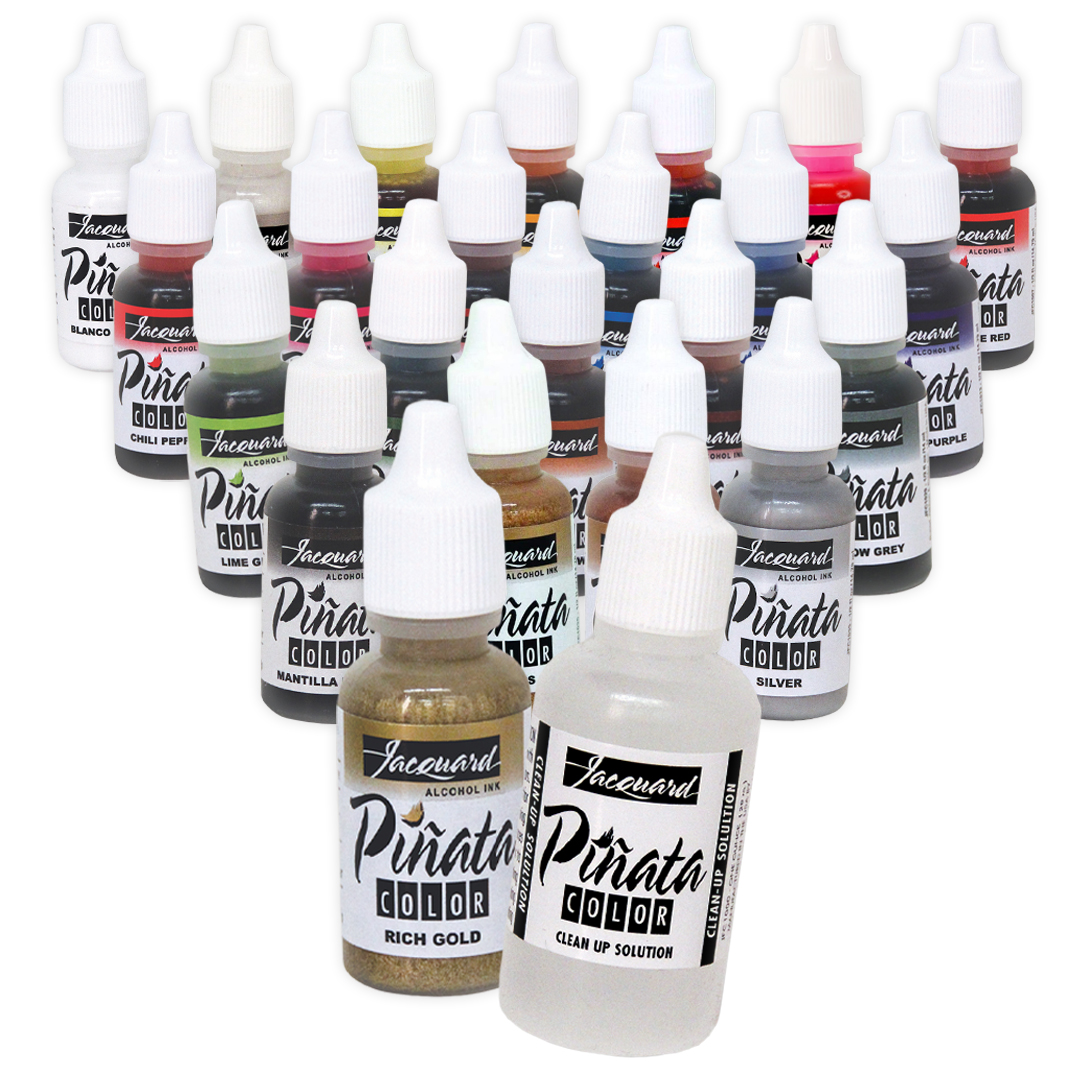 Jacquard Pinata Aclohol Ink in 27 Colors
THE JACQUARD PINATA ALCOHOL INKS That's them. The Jaquard Pinata Alcohol Inks are highly saturated, quick-drying alcohol inks for all types of hard surfaces. They are semi-transparent, acid-free and quick-drying for abstract effects. In combination with alcohol, you can redissolve the ink to create unique effects. That's what they are for. The Jaquard Pinata alcohol inks are suitable for designing color gradients, mixed media such as hand lettering or scrapbooking, alcohol ink bubble techniques or for setting accents in your artwork. They are primarily developed for hard surfaces such as glass, metal, plastic, ceramics and leather. Measure, mix and apply the Jaquard Pinata alcohol inks 1.) Mix clear resin. MASTERCAST 1-2-1 works best for this. 2.) Pour some of your clear resin into a mixing cup. You can mix in the etter art Alcohol Ink. 3.) There are also various possible uses: painting from the bottle, dripping from the bottle, applying to the painting surface with a brush, dripping onto isopropanol, spreading with tools, waving the painting surface. 4.) There is also the option of dripping the etter art Alcohol Inks onto resin or mixing them into paints. (Only transparent or opaque inks among each other). Particularities. • Fast-drying alcohol-based paints with dyes. • Specially developed for hard surfaces. • High and constant luminosity. • Smudge and water resistant (not suitable for the dishwasher) • Acid-free inks. • Can be liquefied with isopropanol and wipe off without residue.
Content: 0.118 Liter (€41.53* / 1 Liter)